| | |
| --- | --- |
| | Smart Auto Repair |




Anytown Garage
123 Main Street
Anytown, NY 20317
USA
(212) 555-4321
(212) 555-1234 fax

Send Us

E-mail

© Copyright 2011
Anytown Garage
powered by Website2Go.com
All Rights Reserved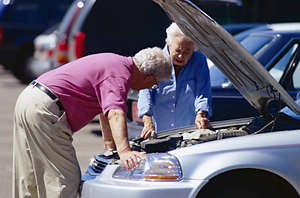 Take Control of Service & Repair
Do your homework, ask friends and associates for recommendations.

Follow the servicing recommendations of your owners manual.

Put it in writing, list problems in detail; unusual noises, smells, changes in performance, etc.

Stick with one facility, cultivate a good relationship, and allow the shop to maintain complete records on your vehicle.
When You Take Your Vehicle In
Write down your exact mileage when you arrive.

Go over your list of problems with the service advisor.

Be sure the work order/estimate that is created covers all the issues you have with the vehicle.

Ask questions, be sure you understand what is being proposed as work to be done and steps to be taken.

Don't force the service advisor into an on-the-spot diagnosis, in most cases diagnosis time will be needed before an accurate estimate of final costs can be given.
Before You Leave Your Vehicle
Be sure the Work Order lists all the work you want performed and the maximum costs that you will incur.

Stay in touch, inform the shop of a valid phone number to reach you during the day. By law, no work can be performed without your express consent.

Clarify the policy on guarantees and payment.

Sign the work order/estimate and take a copy with you.
When You Pick Up Your Car
Review what was done, have the Service Advisor go over each item on the Invoice and explain exactly what was done, and parts used.

Get a copy of all inspections done.

Do not pay for the work until you are satisfied with the explanations given.

Resolve problems immediately.
Following Your Visit
If you are happy with how you were treated, let the shop know!

Tell others about your experience. Good shops depend on referrals.

Resolve problems, don't rush off to another shop. Discuss the problem with the manager or owner - 95% of all problems are due to faulty communication. Good businesses understand the value of your business and will go out of their way to resolve a problem. Should that fail, use the channels available to you for third party resolution such as AAA, or the Better Business Bureau.

Keep all your vehicle repair paperwork in a file. It's a method of staying on top of your vehicle's needs, and an excellent tool when you sell the vehicle.